Pet Emergencies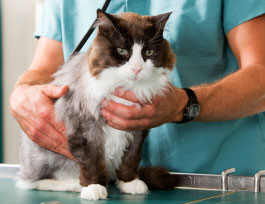 During our regular business hours, the veterinary team at Myres Animal Hospital is here to help. If you are able please notify us immediately by calling 919-775-2258 to let us you are on your way and what has happened to your pet and what critical symptoms they are exhibiting. This allows us to prepare for your pet's arrival and start treatment more quickly when you walk through the door. If you're unable to call in advance get here as quickly and safely as possible. We will access what kind of emergency your pet is experiencing and start treatment on your pet expediently.
After Hours
If you are a current client please call our office at 919-775-2258 for recorded emergency contact information. If your pet has recently been into our practice for a surgical procedure please see your discharge papers for the number to contact Dr. Myres concerning your pet.
If you're experiencing a pet emergency after hours and are not a current client or if Dr. Myres is unavailable for emergency at the time please contact one of the following overnight emergency veterinary hospitals that we recommend. Your pet can be transferred to our care when we re-open the next business day.
Phone: 910-246-0405
Address: 5091 US Hwy 1
Vass, NC 28394
Phone: 919-233-4911
Address: 6405-100 Tryon Rd.
Cary, NC 27518
Phone: 919-513-6911
Address: 1052 William Moore Dr.
Raleigh, NC 27607