Dentistry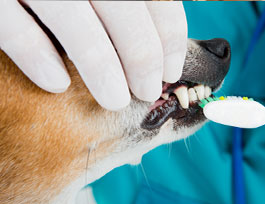 Dental health is an incredibly important aspect of your pet's overall physical health. For this reason, patients of Myres Animal Hospital have their oral cavity, teeth, and gums checked as a part of their annual physical examination. Depending on our veterinarians' findings, a professional dental cleaning may be prescribed in order to get your pet's mouth back into good health.
What is a Professional Dental Cleaning?
When your pet comes in for a professional dental, you can expect them to be anesthetized as they would be for a surgical procedure. We follow the same surgical and anesthetic standards during dentistry as we do during an in-depth surgery. Your pet's dental procedure will most likely consist of the following:
Dental x-rays may be performed if the attending veterinarian believes there are oral concerns that need to be identified or addressed. We have dental x-ray capabilities and can perform full mouth imaging, if needed. X-rays are used to identify underlying decay, abscesses, broken teeth, and more.
Cleaning is completed to remove tartar and plaque buildup on the surfaces of teeth, as well as probing beneath the gum line to check for hidden decay, infection, loose teeth, etc. Once the buildup is removed, the attending veterinarian can assess the extent of the damage to your pet's teeth. For some pets, a cleaning is all that is needed, while for others, the buildup on the teeth has been hiding bigger problems.
Extractions may be performed if diseased teeth are found. We try to save extraction as a last resort because we know that our pets need their teeth for eating. This is one of the reasons that ongoing dental health is so important!
Additional Dental Services
The veterinary team at Myres Animal Hospital is skilled and able to provide advanced dental services, for example, if your pet has suffered a fractured jaw. We are proud to provide advanced dentistry services to ensure that our patients receive all the care they need for their health. If your pet has bad breath or may be due for a dental, please contact our team to schedule an assessment. We are here to get your pet back on the road to good health!