Grooming by Wendy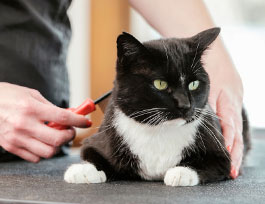 Comprehensive animal care is not limited to veterinary and medical services, and at Myres Animal Hospital, we provide complete grooming services with our professional groomer Wendy. Wendy provides a wide range of grooming services for pets of all types. Some of her services include:
Anal gland expression
Bathing
Blow dry
Breed-specific hair cut
Brushing
Hair cut
Hair trim
Undercarriage trim
…and more!
Why Is Grooming Important?
When your pet is brought in for grooming, our groomer will often be able to identify potential problem areas that may not have been found until the next veterinary appointment. Issues like dry skin, sores, bald patches, rashes, or infections may be discovered while your pet is being bathed, trimmed, or brushed. When Wendy notices issues with your pet's skin or coat, she will alert the veterinarian to ensure that your pet is treated right away, if needed.
In addition to helping us identify potential problems, grooming can always help to promote a healthy coat and healthy skin in your pet!
VIP Discount Club for Grooming Services
Have you heard of our VIP discount club? Signing up is quick and easy, and there are so many benefits! When your pet comes in for their first grooming visit, it will be the regular rate for your pet's appointment. If you continue coming in every 4 weeks thereafter, you'll receive a discounted rate! Some of the benefits of coming every 4 weeks are: your pets skin, coat, ears, nails, & anal sacs (upon request) are kept in good condition, they enjoy being pampered by Wendy each month, and you save a little money too!
Schedule a Grooming Visit with Wendy
If you pet is in need of a fresh new look, contact Myres Animal Hospital today! We'll be happy to set up a grooming visit for your pet.