Surgery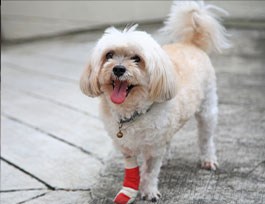 The veterinary team at Myres Animal Hospital provides complete surgical services for our patients. We follow strict surgical care guidelines, ensuring your pet's safety through complete surgical monitoring, the latest surgical techniques, and care from highly trained team members.
We provide a wide range of veterinary surgeries, providing as much of your pet's needed treatment options as possible. From traditional surgeries like spays and neuters, to more advanced surgeries like repairing broken bones, the veterinary team at Myres Animal Hospital has your pet's surgical needs covered!
Post-Surgical Pain Management
After surgery, your pet may experience pain and discomfort. While this is usually a normal part of the healing process, that does not mean that your pet should have to experience discomfort without medical intervention. We utilize laser therapy as a means of combating post-surgical pain and encouraging faster healing. Laser therapy works by sending concentrated light into the affected area to stimulate healing at a cellular level.