Pet Vaccinations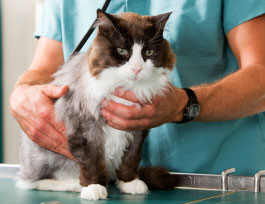 It's been said that the best way to treat an illness is to prevent it. We firmly believe that here at Myres Animal Hospital, which is why many of our services are centered on preventive care. In addition to comprehensive wellness exams for your pet, vaccinations are a critical component in protecting them from viruses and diseases. Vaccines help equip a pet's immune system to fight off certain illnesses, so they should be part of every pet's overall wellness plan. We offer more than a dozen vaccines for dogs and cats, which can be customized to meet your four-legged friend's specific needs.
Core Vs. Non-Core Pet Vaccines
When it comes to dogs and cats, there are many different types of vaccines available, but not all vaccines are necessary for every pet. Vaccines are divided into two categories: core and non-core. Core vaccines are those that are given to every pet, regardless of their risk of exposure to certain viruses/diseases. Non-core vaccines, on the contrary, are those that are considered optional and based on a pet's lifestyle. For example, if you have a dog that may come in contact with other dogs, the Bordetella vaccine is typically recommended, since Bordetella is a contagious airborne disease.
The following are just a few of the core and non-core pet vaccines that we have available for dogs and cats:
Core Vaccines
Rabies: This deadly virus can affect dogs, cats, and other mammals.
Canine parvovirus: If left untreated, this virus is usually fatal.
Distemper: This potentially fatal disease can affect both dogs and cats.
Non-Core Vaccines
Bordetella (kennel cough): This upper respiratory infection can affect both dogs and cats, and is highly contagious (dog to dog and cat to cat).
Lyme: Caused by deer ticks, Lyme is a disease that affects dogs and other mammals.
Feline leukemia: This cancer-causing virus can be transferred from cat to cat.
Give us a call at 919-775-2258 if you'd like to learn more about the pet vaccines we offer here in Sanford, or if you need to schedule an appointment.